8 Must Have Features of Best WordPress Website Hosting Package
If you are reading this then there are full chances that you want to host a WordPress Website and looking for the best self hosted WordPress website plan. This blog is written by me after hosting and making almost 10 WordPress Websites in past few years. With my own experience I have tried to put 8 Must Have Features of Best WordPress Website Hosting Package.
SO while searching for a hosting package, do look for this feature, as it would also help you to decide what is best hosting package for you and will save money as well. before that read 3 Tips for Choosing A Domain Name for SEO & More Traffic and How To Choose A Domain Name "8 Critical Q&A"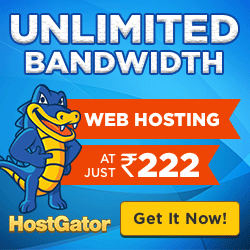 8 Must Have Features of Best WordPress Website Hosting Package 

1. Automated Back up :- This is the most important feature of a WordPress Website Hosting Package must have. Do not buy a WordPress hosting plan if it does not provide automatic back up of your website. It not only secure your data but saves your hard work. A website is built with months or years of work could go waste without automatic back up.

2. 24×7 support :- Yes it is important because there may be some virus attack that may cause downtime which may be beyond your understanding and control. The instant help solve the problem and give you peace of mind.
3. Hassle free or automated WordPress hosting setup– Automated WordPress hosting setup saves lot of time when you make a website. It is one of the basic need for you. Why to west time in managing hosting, let the hosting provide do for you.

4. Automatic update to WordPress new version -Like any other software and mobile app, WordPress do update itself time to time to cope up with latest technology. If WordPress Website Hosting Package has automated update to new versions you do not have to update it yourself manually. Again that saves lot of valuable time.

5. Technical capability & behavior of support staff– While 24×7 support is inevitable , it is equally important that the support staff ( Customer service representatives) are technical capable to understand the problems and are able to listen, understand and address the issue is right manner.
6. Free domain
– Most of the self managed WordPress Website Hosting Package comes with free domain or rather complementary domain for first year. Why to lose an opportunity to save few bucks. Read 
Reality Behind Free & Cheap Domain Name Registration
7. Other freebies– Look for free premium WordPress theme, email solutions, etc that comes free for a yea , even if you don't use them there is nothing wrong in trying and learning for self improvement. Read
Google AMP Ready WordPress Themes 
8. Trust factor (Security )
– It is advised to be associated with the 
international web hosting provider

.
 Specially those are serving clients in developed countries such as USA , UK and Australia. Because these companies often offer higher standard in servicing and products.